Theatrical Sound Design Interactive DVD
by Kade Mendelowitz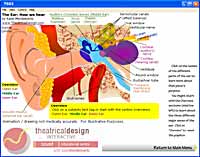 A complete instructional tool which teaches you how to approach designing sound for the stage - from concept development, to equipment choices, to gathering and editing the effects and implementing your ideas for a successful audio plot; Theatrical Sound Design Interactive allows you to proceed at your own pace - while learning interactively.

Note: Example segments on the web (the Ear and Mixer overview) requires the free Flash player. Sorry mobile-users!

What is sound?
How we hear

Equipment

Microphones




• Dynamic




• Condenser




• Ribbon




• Pickup Patterns




• Frequency Response Charts




• Wireless




• Comparison




• My recommendations




• Handheld




• PZM/PCC




• Choral




Recorders




• Tape




• Reel-to-reel




• MiniDisc




• Digital Recorders




• Digital Audio




• Bit Depth




• Sample Rate




• File Size




• Tracks




Mixers


• Mixer overview


• Interactive mixer simulation




Cables


• Balanced
• Unbalanced
• Connectors
• Best use

Amplifiers

Speakers




• Overview


• Inside look
• 3-way
• Other types
• Enclosures
• Phasing
• Using speakers

Playback Devices




• CDs




• Computers

Effects Processors
• Noise Reduction
• Digital Delay
• Compressors / Limiters
• Aural Exciters
• Noise Gates
• Parametric EQ
• Graphic EQ
• Digital Effects Generators

Script Analysis & Production Development
Cue Plot
Creation & Procurement
Implementation
Special Features:

Projects & Additional Resources